Madam Nani Ma and Dr. A. K. Dewan - The Ganga Prem Hospice in India
By Formosa News Group (Originally in Chinese) 2009.06.14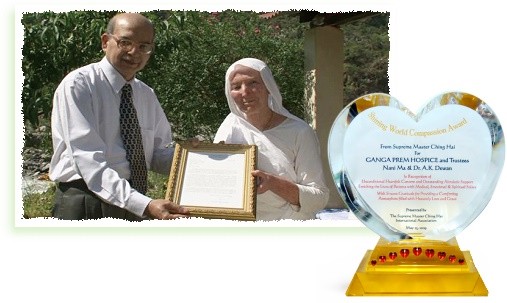 Dr. A. K. Dewan and Madam Nani Ma together receive the Appreciation Letter.
Situated at the foot of the Himalayas on the bank of the Ganga River near Rishikesh, Ganga Prem Hospice is a spiritually-orientated, non-profit hospice for terminally ill cancer patients. It provides medical support as well as emotional and spiritual comfort for individuals and their loved ones as they are going through pain and suffering from life-threatening illnesses.
Madam Nani Ma from the United Kingdom is a kind-hearted lady who sought spiritual enlightenment at a very young age and had become a vegetarian in pursuit of spiritual practice. One day, she realized that serving the multitude and helping the needy is also an aspect of spiritual practice. So, she started taking care of the terminally ill cancer patients in the hospital, guiding the people who are suffering from pain and death to embark on a new journey. Dr. A. K. Dewan is a famous surgeon in India who often saw cases of cancer patients being tortured by the illness, especially the terminally ill cancer patients who are denied treatment and deprived of dignity at the final stage of their life. For those reasons, he worked with Madam Nani Ma, who shared the same ideal as him, to establish the Ganga Prem Hospice.
The charitable deeds of the Ganga Prema Hospice set a noble paragon for the world in rendering selfless care to terminally ill cancer patients and their families. So on June 14, Golden Year 6 (2009), reporters from Supreme Master Television visited Madam Nani Ma's ashram to present the Shining World Compassion Award on behalf of Supreme Master Ching Hai together with a US$10,000 contribution. On behalf of the Hospice, Madam Nani Ma and Dr. A. K. Dewan accepted the Award, expressing their deep gratitude towards Master's encouragement and generosity. Dr. Dewan said that they have bought a block of land for building permanent premises to provide a more comfortable environment for the patients. We are very grateful to the Ganga Prem Hospice team for their compassionate work in comforting the souls of the patients and their families. May God bless you and all your noble endeavors.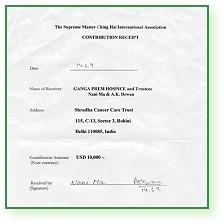 Receipt by the Ganga Prema Hospice for the US$10,000 from Master.