A Life-Respecting Hospital for Birds - Charity Birds Hospital
By Taipei News Group, Formosa (Originally in Chinese) 2009.06.19
The Charity Birds Hospital in Delhi, India, was founded by a group of Jain believers in 1929 dedicated to taking care of pigeons, parrots, and a small number of peacocks that people picked up on the road or in the parks. This hospital embraces the belief that birds should not be kept in cages, as they are living beings like us and deserve the same protection and respect. Therefore, the hospital provides free medical treatment to birds in the wild and to our domestic feathered friends as well as. They even record the medical history of each bird including their recovery progress. While in hospital, the birds are provided with medicine, vegetarian food, vitamins, fruits, and water. All recovered birds are released back to the wild, as this is the goal of the hospital.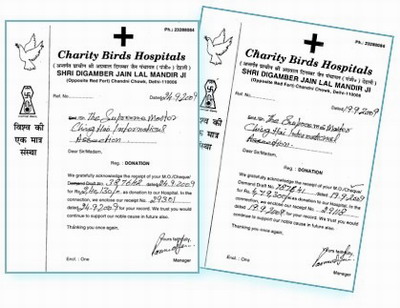 Receipt from the Charity Bird Hospital for the US$15,000 contributed by Master.
On June 19, Golden Year 6, (2009), on behalf of Supreme Master Ching Hai, our Association members went to Delhi and presented the Shining World Compassion Award together with US$15,000 to members of the Jain Temple—Shri Digamber Jain Lal Mandir Ji, and the Charity Bird Hospital—commending the hospital's loving and charitable acts in taking care of our feathered friends and respecting all life. Mr. Ramesh Chand Jain, manager of the hospital, received the Award and expressed his deep gratitude to Supreme Master Ching Hai for Her kind-hearted contribution, which will enable the hospital to provide better care for the avian residents. At present, the hospital is looking after more than 500 pigeons and part of the fund will be used to build bird houses equipped with fountains that the pigeons love, thus fulfilling the long-time aspiration of the hospital staff.
Although many new birds are being admitted into the hospital every day, the yard is still kept very clean and tidy. The hospital staff treat birds with the same meticulous care as they would humans. We hope this avian hospital will run smoothly for many years to come providing the best care and protection for birds in Delhi.
To find out more about the Charity Bird Hospital, please visit the website at:
http://www.charitybirdshospital.org/