Chile
Rear Admiral Juan Pablo Heusser Risopatrón - A Protector of Lives at Sea
By Chile News Group (Originally in Spanish) 2009.06.09
Rear Admiral Juan Pablo Heusser Risopatrón is a distinguished officer of the Chilean Navy and Director of Maritime Security and Operations of the Maritime Affairs and Aquatic Environment in Chile. He has devoted his life to the protection of human and animal lives at sea, as well as to safeguarding the environment and giving humanitarian aid.
Throughout his career, Rear Admiral Heusser has been entrusted with many challenging stations. Due to his exceptional courage, leadership and seamanship, he rose quickly through the ranks and has received many medals and awards. In January, Golden Year 6 (2009), he accepted the Award for Exceptional Bravery at Sea from the International Maritime Organization (IMO) on behalf of the Chilean Navy for rescuing 154 passengers on the shipwrecked Explorer Cruise in the Antarctic Territory on November 22, 2007. The rescue crew ensured minimal contamination of the sea as a result of the ship's collision with an iceberg. The protection of whales is another issue that the Admiral has been working on for some 30 years.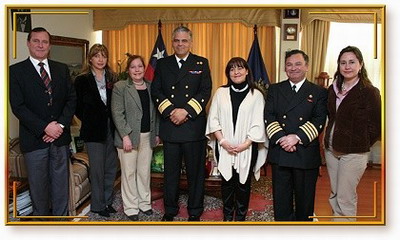 For his leadership and care for human lives and animal co-inhabitants, and for his true love-in-action for the sea and planet, Rear Admiral Juan Pablo Heusser Risopatrón was honored with the Shining World Hero Award from Supreme Master Ching Hai. In addition to the Award letter and plaque, he was also presented with some of Supreme Master Ching Hai's books as well as lecture and music DVDs and CDs, by Association representatives. More publications were contributed to the Navy library. The ceremony was conducted on June 9 in the presence of Navy media and Rear Admiral Heusser's close staff. The event was concluded with a vegan cocktail party and a non-alcoholic champagne toast in a cordial atmosphere.
In a thank you letter to Supreme Master Ching Hai, Rear Admiral Heusser expressed his gratefulness for receiving such recognition and humbly said, "Being named a 'Shining World Hero' is simply the result of joint work by the organization under my command." He later told Supreme Master TV, "Any award that is presented to me, although it is recognition of me, it's also recognition for my organization and a commitment to continue with this work, this difficult task we have always done."
Our respectful salute, Rear Admiral Juan Pablo Heusser Risopatrón of the Chilean Navy. May Heaven bless you, your staff and the noble work that you all are doing as true guardians of those in need at sea.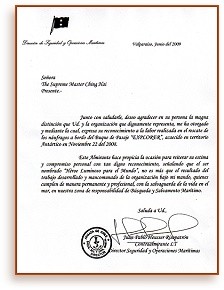 Thank you letter from Rear Admiral Heusser