Australia
Jeune Mark: Equine Hero of the Victoria Bushfires
By Melbourne News Group, Australia (Originally in English)
In early February, Golden Year 6 (2009), Jeune Mark, a horse from Australia's Victoria state, became a hero of the region's devastating bushfires. During the fires, Jeune Mark and his caretaker, Anthony Sexton, were faced with a wall of fire in all directions and the horse managed to knock Anthony over a guard rail and send him tumbling down into Traralgon Creek. Then, Jeune Mark ran straight through the fire back to Mr. Sexton's farm. Anthony stayed in the creek for many hours while trees exploded around him and the wind roared. He suffered no burns or injuries and believes he was definitely blessed and looked after. When the fire died down many hours later, Anthony returned to his farm, expecting that he would never see his beloved horse again, but to his delight, Jeune Mark had survived, although he had burns on his face and parts of his body. That night, Anthony slept next to his horse, and over the ensuing months, Jeune Mark made a full recovery.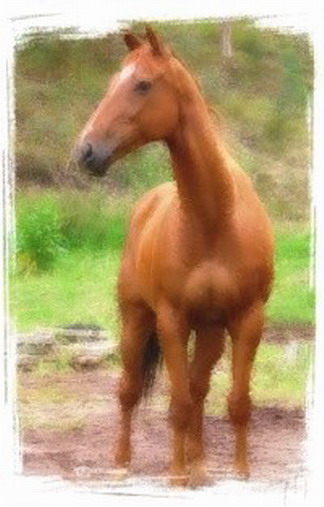 After hearing of Jeune Mark's selfless, courageous, and life-saving actions, on April 27, Supreme Master Ching Hai granted him the Shining World Hero Award and US$1,000, along with some delicious carrots and apples. Mr. Anthony Sexton also received some Master's publications.
Although Anthony lost his farm to the fire, he is currently living in a van on his property, with his remarkable horse, Jeune Mark, always close by, waiting for reconstruction of his home to be completed.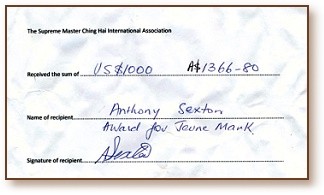 Receipt from Anthony Sexton for the financial contribution from Master