Formosa(Taiwan)
Da Tou - A Vigilant Dog Stops a Disaster
By Kaohsiung News Group, Formosa (Originally in Chinese) 2009.09.25
A beagle named Da Tou, under the care of Ms. Huang Hui-ling who lives in Kaohsiung City prevented an explosion, that could have destroyed all the 108 households in the building, with his acute sense of smell and alertness.
On May 1, 2009, in the building where Ms. Huang was living, a man attempted to ignite a gas bottle to cause an explosion. When Da Tou detected the fumes and the burning smell, he barked frantically to wake up Ms. Huang, who then reported to the police in time and thus prevented a big disaster from occurring. When Supreme Master Ching Hai heard of Da Tou's brave action, She bestowed on him with the Shining World Hero Award, which was presented by our Association members on September 25, Golden Year 6 (2009), together with gifts that included Master's books, DVDs, CDs, vegan dog food, toothpaste, and US$500. In addition, Da Tou also received a commendation from the Kaohsiung City Fire Bureau, and was appointed as their Fire Safety Ambassador. Taking this opportunity, the Fire Bureau conducted a Household Fire Prevention session for the residents in the building and the nearby communities, reminding them to live safely in their homes.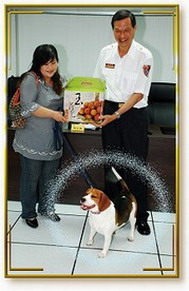 Da Tou receives a commendation letter from the Kaohsiung City Fire Bureau,
appointing him as their Fire Safety Ambassador.
Da Tou was originally a stray dog and was adopted by Ms. Huang when he was very small. Now he has become a life-saving hero. This story again proves that animals are good friends of humans and should be treated with love and respect.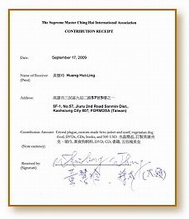 Receipt for the US$500 from Master awarded to Da Tou.