United States of America
Dr. Myrna Hant - Caring for the Homeless and Their Animal Friends
By Los Angeles News Group, USA (Originally in English)
Founded by People Assisting The Homeless (PATH), Petco Place is a regional, non-profit organization providing services to homeless individuals and their animal companions throughout Los Angeles County. It is estimated that five to ten percent of people living on the streets have a pet, and many of them usually turn down housing when forced to choose between their pet and a roof over their head. In this shelter, however, their loyal friends are provided with food and veterinary care in kennels close by, thus allowing them to go out to look for a job with peace of mind.
Supreme Master Ching Hai honored Petco Place's outstanding humane effort with the Shining World Compassion Award, which was presented to the President of PATH, Dr. Myrna Hant on November 22, Golden Year 5 (2008). In addition to the crystal plaque, Dr. Hant also received a generous contribution of US$10,000 from Master along with Her best-selling books The Dogs in My Life and The Birds in My Life as well as one of Her beautiful paintings. Dr. Hant and her staff thanked Supreme Master Ching Hai for Her benevolent support. They wholeheartedly enjoy helping people make the transition back to society in a dignified way, whilst assuring them that their animal friends are safe and well.
Bravo and congratulations, Petco Place and Dr. Myrna Hant! May many more follow your noble example in providing care for both humans and their animal companions, and in respecting the love and bond shared between them.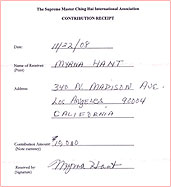 Receipt from Dr. Myrna Hant for Master's US$10,000 contribution