Aulac(Vietnam)
Mr. Nguyễn Văn Ký - Creating a Beautiful and Loving Home for Storks
By Los Angeles News Group, USA (Originally in English) 2009.06.01
In the village of Long Thạnh Mỹ near the capital city of Âu Lạc, farmer Nguyễn Văn Ký generously transformed half of his family's property of rice fields into a paradise and safe haven for thousands of storks and other wildlife.
Upon watching flocks of white storks flying back to his garden every evening to spend their night, he came upon an idea of planting more bamboo trees to build sleeping quarters for them. Even in times of hardship, the compassionate Mr. Nguyễn kept the land as a sanctuary for storks, whom he discovered were landing in his coconut groves instead of others nearby, knowing that these feathered friends would find peace, protection, and the love of his family. Now after nearly 40 years, the refuge for these glorious birds, due to Mr. Nguyễn's dedicated efforts in protecting and saving these noble beings, supplies the Nguyễn family with a bountiful harvest. The Hồng Ký Ecological Garden, as it has come to be known, today employs 20 workers and is visited by hundreds of people each week.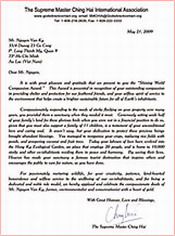 Touched by Mr. Nguyễn's generosity and noble actions, on June 1, Golden Year 6 (2009), on behalf of Supreme Master Ching Hai, our local Association members presented him the Shining World Compassion Award, US$10,000 to help him meet the costs of caring for our precious co-inhabitants, a letter from Master thanking him for his kind-hearted work with the animals, and a selection of Her publications.
Thank you Mr. Nguyễn for compassionately providing a loving home for storks and many other wildlife. May Heaven bless you and your family with a peaceful, happy life.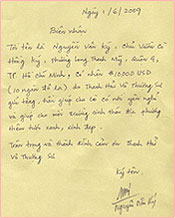 Receipt from Mr. Nguyễn Văn Ký for Master's US$10,000 contribution