United States of America
RaeLee the Hero Terrier
By Florida News Group, USA (Originally in English)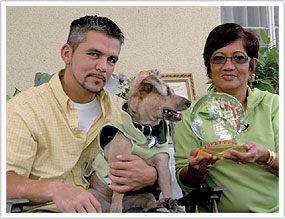 RaeLee with Randy (his previous caretaker) and Ms. Segovia, his new caretaker
Recently an anecdote of a dog saving a human life made the headline in the local St. Petersburg Times, Florida. It all started when Stacy Savige found a stray terrier dog in front of a school. While trying to find the canine's caretaker, Stacy's neighbor Ms. Yolanda Segovia offered the dog, named RaeLee, a temporary home. In just four days, RaeLee had already befriended the family. He loved roughhousing with Azaiah, Ms. Segovia's 10-year-old son, yet was gentle to Christian, her elder son who has Down's syndrome and an array of other ailments.
On one of the days when Azaiah was out and Ms. Segovia was outside on the deck, RaeLee appeared at the screen door barking frantically. As she opened the door, the dog immediately raced back towards the boys' room. There Christian was slumping over in a writhing seizure with blood oozing from his nose and mouth. She instantly gave him CPR, and only then did RaeLee stop yelping. Later Ms. Segovia told Stacy, "The neurologist said Christian would have died had the dog not come to get me."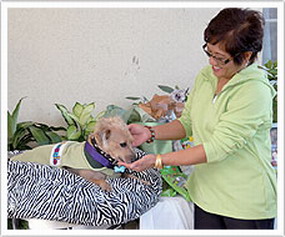 RaeLee in his HERO Jacket and Ms. Yolanda Segovia
Several days later when RaeLee's caretaker Randy came to pick him up, he saw Christian's sadness at the thought of loosing his new friend, so Randy decided to leave the dog with the family. Indeed, it was fortunate that RaeLee stayed with them, especially for Christian, as this wonderful animal companion has saved his life many times since then.
For his heroic deeds, Supreme Master Ching Hai conferred the Shining World Hero Award on RaeLee. Randy's family joined the Segovia's in their home for the presentation, on December 12, Golden Year 6 (2009). Yolanda accepted the Award plaque, an appreciation letter signed by Master, Her publications and many other gifts including a dog bed, vegan dog food and bones, and a check of US$500 on behalf of RaeLee, as he ran around happily in his new HERO jacket.
After the presentation, everyone enjoyed a vegan luncheon provided by our Association members. In an emotional voice, Ms. Segovia thanked Master for Her great Award and love toward RaeLee. She also expressed her interest in becoming a vegan for the love of animals.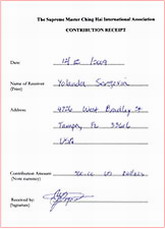 Receipt from Ms. Yolanda Segovia for the US$500 from Master