Hong Kong
Ms. Au Yeung Sin Yu (Ms. Yeung Yeung) - Hong Kong Bovine Savior
By Hong Kong News Group (Originally in English) 2009.05.06
For more than a decade, the chairwoman of the World Animal Rights (Charity) Association Ltd, Ms. Au Yeung Sin Yu has provided a comfortable and loving environment for over 100 rescued bovines. In recognition of her noble and mercifully endeavor, Supreme Master Ching Hai honored Ms. Yu with the Shining World Compassion Award and a US$10,000 contribution, which was presented to her on May 6, Golden Year 6 (2009) by representatives from our Hong Kong Centre.
Ms. Yu, also known as Yeung Yeung, is a compassionate vegan who volunteered her service at the Vietnamese Refugee Camp in Hong Kong for more than 10 years. Then one day in 1997, she heard a news report on the radio about the government catching stray cows and sending them to the slaughterhouse; some had even fallen from the crane in the process. Feeling very distressed about this kind of situation, she went to different government departments to inquire about them. Finally, she found a group of detained cows; all skinny, helpless and teary-eyed. She decided to help them and founded the World Animal Rights Charity Association, also known as the Cow's Home Hong Kong.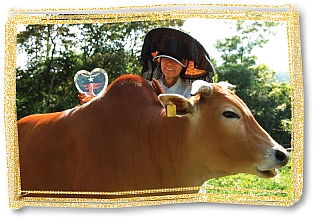 Over the years, Ms. Yeung Yeung has rescued more than a hundred bovines from the government, farms and auctions, using her savings as well as money from sold properties and jewelry. Currently, there are about 116 of these beautiful animals, including wild cows, oxen, milk cows and buffalos, living in Cow's Home. Treating them like beloved pets, she has given each one of them a name and works more than nineteen hours a day to take care of them. Apart from letting them graze on fresh grass, with the help of two hired workers, she also prepares super nutritious meals for them. Ms. Yeung Yeung said that cows have a lifespan of more than thirty-year, so she would like to keep them in good health for the rest of their lives.
Upon receiving the Award and the financial assistance, Ms. Yu expressed her deep gratitude to Supreme Master Ching Hai for the timely help and said all the funds will be used to build a new Cow's Home.
We thank Ms. Au Yeung Sin Yu and all the volunteers, who lend a hand in this compassionate work, for their loving care of our bovine friends. May Cow's Home Hong Kong be an ever peaceful and restful place for these loving creatures to pass their days.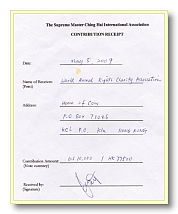 Receipt from Ms. Au Yeung Sin Yu for the US$10,000 contribution from Master.