Dr. Zareen Patel - A Vegetarian Doctor Lovingly Takes Care of Homeless Dogs
By Formosa Award Group (Originally in Chinese) 2009.12.06
Dr. Zareen Patel of Pune, India, is a vegetarian, a clinical geneticist and also a guardian angel for stray dogs. She uses her income and dedicates a great deal of her time to taking care these homeless animals. She built a shelter close to her ancestral home that sits on half an acre of land to house nearly a hundred dogs. She works tirelessly day and night, looking after those loving beings. Upon arrival, each one is vaccinated, sterilized, and then given some healthy vegetarian food.
To commend the compassionate deeds of Dr. Patel and her shelter staff, Supreme Master Ching Hai honored them with the Shinning World Compassionate Award along with a US$5,000 contribution to support their noble mission. On December 6, Golden Year 6 (2009), our Association members presented Dr. Zareen Patel the Award, which she shared with all her staff. In thanking Supreme Master Ching Hai for acknowledging her work, she also conveyed her great admiration to Master for Her charitable deeds worldwide and for all the positive programs on Supreme Master Television. She promised to use the money to improve the wellbeing of the dogs, getting them spayed or neutered, feeding them better food, building new houses, and planting more trees to help cool down their living environment. As a remembrance of this special recognition and to express her gratitude, Dr. Patel decided to name her place The Supreme Master Ching Hai Dog Shelter. She said, "Life is something that is very precious to all of us, including animals, so we have no right to kill them. My message to the world is: Stop killing animals. And that's how I think we will help the animal kingdom."
Dr. Patel wishes that one day all animals will live in a world of peace loving care and tolerance. She also encourages people to put themselves in the place of the animals, because they deserve to be treated kindly just as we do.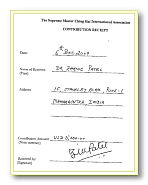 Receipt signed by Dr. Zareen Patel for the US$5,000 gift from Master.
To watch Supreme Master TV's interview with Dr. Zareen Patel and her staff, please visit:
http://video.Godsdirectcontact.net/magazine/AW1030.php