Israel
Mr. Barry Breen - 3G Solar, Israel - Low-Cost Green Power for All
By Award News Group (Originally in English) 2009.12.24
Israeli company 3G Solar has developed the first commercial-size solar energy system that uses colored dyes rather than the more costly silicon, and remarkably also functions in sunless conditions. Similar to the natural process of photosynthesis this third generation solar technology utilizes simple organic dyes much like the way nature uses the green pigment in plants and algae to absorb light and convert sunlight into energy.
Dr. Jonathan Goldstein, Founder of 3G Solar, and Mr. Barry Breen, CEO of 3G Solar, explain that the manufacturing costs are very low, about a fifth of conventional silicon or thin film production for first or second generation solar power technology because the manufacture of 3G Solar does not involve the use of a vacuum room and other expensive semiconductor equipment. It utilizes a unique and simple technique with printing machines, much like printing a shirt. Furthermore, the manufacturing process can be setup locally, and is ideal for areas in developing countries where there is no electricity.
In recognition of this outstanding green energy achievement and inspired creativity helping to save our planet, Supreme Master Ching Hai honored 3G Solar with the Shining World Inventor Award.
A ceremony was held in Jerusalem, Israel at the 3G Solar headquarters. In addition to the Award, the 3G Solar team was also gifted with US$10,000 from Supreme Master Ching Hai as well as a selection of Her latest books and DVDs, which were presented to them by our local Association members. Mr. Breen and his staff expressed their gladness and deep gratitude for Supreme Master Ching Hai's encouragement and appreciation of their green efforts, saying, "I really thank you for recognizing these developments. And the entire crew thanks you for this Award."
We applaud 3G Solar Ltd, for such visionary approach to help our world establish a more self-sufficient and prosperous natural way of living. May the day soon come when we abandon our reliance on fossil fuels and turn towards God's bountiful resources of free energy.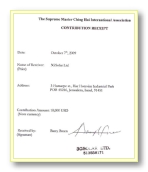 Receipt by 3G Solar for US$10,000 contribution from Master
Reference:
For further information about 3G Solar, please visit: http://www.3gsolar.com/