New Zealand
Project Jonah, Guardian of Marine Mammals
By Auckland News Group, New Zealand (Originally in English)
Project Jonah was established in 1974 to campaign against commercial whaling and has since grown to become the primary NGO in New Zealand dedicated to protecting our ocean friends, including whales, dolphins and seals. Holding a vision to create a world where these marine beings are respected, protected and loved, it has been involved in a wide range of activities including an awareness campaign, educating the public, delivering essential first aid to stranded or injured animals nationwide, and acting as a watchdog to help create and to enforce legal measures to protect these beautiful ocean co-inhabitants.
Over the past 36 years, Project Jonah New Zealand has attained many achievements including designing the world's first Inflatable Pontoon for rescuing stranded whales. It then shared its expertise with the rest of the world. Their Marine Mammal Medic training program has taught thousands of ordinary citizens the basic stranding rescue skills. These have enabled Project Jonah to run a 24/7 emergency hotline and to work alongside the New Zealand Department of Conservation to provide direct assistance to stranded marine mammals. Through their work, thousands of marine mammals have been rescued over the past years.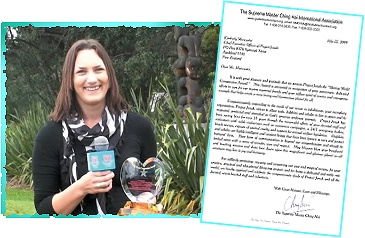 Touched and impressed by their passionate, dedicated efforts and distinguished achievements, Supreme Master Ching Hai conferred on Project Jonah the Shining World Compassion Award, together with US$20,000 in support of their noble work, both being presented to them on September 19, Golden Year 6 (2009). On receiving the Award and funding, Mr. Mark Simpson, the Chairperson for Project Jonah NZ, wrote a touching letter expressing warmest thanks on behalf of all his colleagues. "While seeking recognition is not part of our purpose, it is wonderful to receive it 'out of the blue' particularly from someone like yourself and your organization."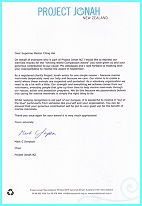 Thank you letter from Project Jonah NZ for the US$20,000 from Master
Seven months later, Ms. Kimberly Muncaster, CEO of Project Jonah NZ, reported in a follow-up letter that Master's contribution has helped them accomplish some extraordinary things including training hundreds of volunteers, responding to dozens of stranding emergencies, cleaning up beaches, distributing educational materials to hundreds of schools, and launching the "Keep Moko Safe" campaign to protect this special dolphin in New Zealand.
We thank all the staff and volunteers at Project Jonah NZ for their selfless service to make this world a more loving and harmonious place. May their courageous example inspire more to join the action in saving the marine beings and help preserve our planet Earth.
Reference:
To learn more about Project Johah NZ, please visit:
www.projectjonah.org.nz http://www.projectjonah.org.nz/News/Praise+for+Project+Jonahs+Shining+Compassion.html