Australia
Kesley Burgess – Embodiment of Modern Chivalry
By Sydney News Group, Australia (Originally in English) 2010.09.26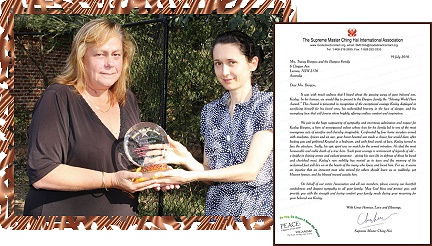 Tracey Burgess accepts the award plaque on behalf of her beloved son.
Kesley Burgess was just an otherwise ordinary 25-year old Australian lad, full of life and love, until the day he showed extraordinary courage in the face of an extreme situation, with an act of chivalry reminiscent of the legendary knights.
It was an early July day in 2010 when four armed intruders entered the home of Kesley's parents and initially caused injury to his mother, Tracey. Kesley immediately moved his mom and his girlfriend into a bedroom. With final words of love, he locked the door and turned to face the attackers. Sadly, Kesley did not survive the severe injuries sustained in defense of his family and died the most honorable and noble death of a true hero.
In recognition of the exceptional courage Kesley displayed in sacrificing himself for his loved ones, Master posthumously honored him with the Shining World Hero Award with all Her love and sorrow, plus US$2,000 to help with his memorial service, all of which were presented to the Burgess family on September 26, 2010. Offering words of comfort, Master wrote in the Award letter, "Kesley's rare nobility has moved us to tears and the memory of his acclaimed feat will live on in the hearts of the many who knew and loved him. For us, it seems an injustice that an innocent man who strived for others should leave us so suddenly, yet Heaven knows, and his blessed reward awaits him."
On receiving the beautiful crystal plaque and the heartfelt Award letter, Tracey Burgess was brought to tears. "I cannot express what this Award means to me." she wrote. "My gratitude to the Supreme Master Ching Hai International Association for everything you have done for us. Kesley really was a rare and unique young man. He touched so many people's lives in his short life. He had a heart of gold and was always there to help people."
Our heartfelt condolences and deepest sympathy go to Kesley's family and friends. May Kesley rest serenely in God's forever loving care and may his exemplary spirit of chivalry inspire many more to live lovingly and selflessly.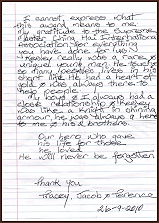 Thank you letter from Kesley's mother