United States of America
Tuchi, The Small Dog with a Thunderous Bark
By Florida News Team, USA (Originally in English)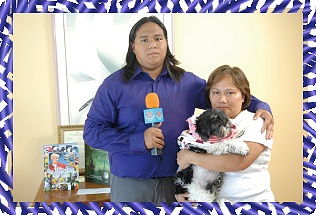 Tuchi, Mrs. Segovia and Roberto at the Award ceremony
In Florida, USA, a family of three was saved by their one-year-old dog from a blazing fire that broke out quickly in the early hours of the morning. Around 4:00 a.m. on Easter Sunday when Mr. and Mrs. Segovia and their son Roberto were asleep, their Shih Tzu dog named Tuchi picked up the scent of danger. Anxious over the safety of the family, Tuchi began barking loudly, stomping back and forth. Her persistent and unusual behavior eventually awakened a family member, raising the alarm. Holding Tuchi in his arms, Roberto looked outside and saw danger looming. He hurriedly woke his parents and rushed them outside as the flames from the fire crept in. It took the firemen 40 minutes to put out the flames which apparently had been caused by a faulty cruise control in the family car parked in the driveway just four feet from the house.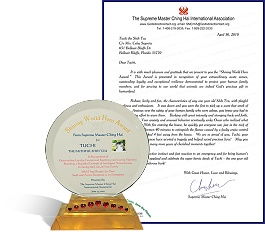 Tuchi's brave vigilance and attentiveness in averting a tragedy and saving precious human lives earned her the Shining World Hero Award from Supreme Master Ching Hai. On June 28, Golden Year 7 (2010), the Award presentation was held at the Segovia's house where Tuchi was given a Hero jacket, a doggie bed, and some special treats. Apart from receiving Master's best-selling animal books, the Segovia family was also given US$1,000 for purchasing additional vegan doggie food. They extended their thankfulness to Supreme Master Ching Hai for sending Tuchi such a wonderful award and for the other magnificent gifts.
Hats off, young Tuchi, for your loyal and lifesaving alert! May you and your beloved human family be ever graced in Heaven's protection and love.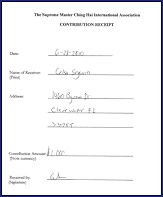 Receipt from Mrs. Segovia for Master's US$1,000 contribution