Street Sweeper Shines with Love and Generosity
By Award News Group in China (Originally in Chinese) 2011.03.21
Commending her charitable actions and sacrificing spirit in providing loving aid to people in poverty and young students in China, Ms. Li Yukun received the Shining World Compassion Award from Supreme Master Ching Hai. It was presented to her in her home on March 21, Golden Year 8 (2011) by representatives of our Association. In addition to a crystal plaque, a framed letter of appreciation from Master and some of Her publications, she also received a US$10,000 contribution from Master to support her noble work. Ms. Li expressed her wholehearted gratitude and steadfast commitment to helping people in need.
"Having received help when I was in need, I should help other people as well," Ms. Li recalled. Firmly embracing this belief, Ms. Li has hence changed her life and those of many others. Despite her meager income as a street sweeper, she has donated more than a 100,000 yuan to disaster victims over the course of a decade.
In recent years, Ms. Li noticed that many students were dropping out of university due to financial difficulties. Therefore, she started sponsoring university students in need of aid. She even bought newspapers to find out whether there were students who needed help and then offered assistance immediately. A student who personally visited Ms. Li to say thank you, was moved to tears upon finding that she was not wealthy and might be poorer than some of her beneficiaries.
Good for the environment and also to earn more income to fund her charitable work, Ms. Li also recycles materials. "Be generous to others, be frugal with ourselves." This captures the essence of this beautiful person and her life. In order to help more people, Ms. Li tries to save every single cent. As stated in the letter of appreciation from Supreme Master Ching Hai: "People usually expect the rich to donate to charitable organizations and to help the poor, because they possess a lot that they can share. Although you Ms. Li do not have much money, you possess the noble spirit and virtues to which money cannot compare."
Ms. Li's selfless and loving deeds have become known far and wide. Her immense love definitely inspires kindness in other people. Together we can create a more compassionate and brighter future for our Earth.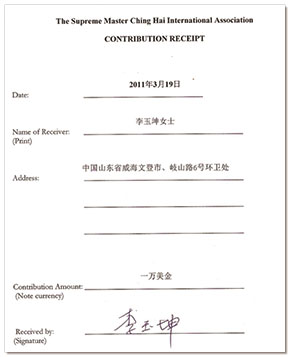 Receipt signed by Ms. Li Yikun for the US$10,000 from Master