Germany
A Royal Defender of Animals: Her Highness Princess Maja von Hohenzollern
By Hamburg News Group, Germany (Originally in German) 2011.07.28
Born in Dresden, Germany, Her Highness Princess Maja von Hohenzollern is internationally renowned for her devotion to bettering the lives of both humans and our animal co-inhabitants. As a TV host, entrepreneur, designer, author and humanitarian, Her Highness works tirelessly to help animals and to inform the public about the direct link between animal welfare, environmental protection and alleviating world hunger. She currently lives in Spain, has adopted 11 dogs and three cats from the streets and has saved the lives of hundreds of other animals. In 2009, Princess Maja received the European Animal Welfare Award. Out of respect and love for our fellow beings, Her Highness also observes a meat-free diet and is committed to spreading the word about the destructiveness of animal agriculture.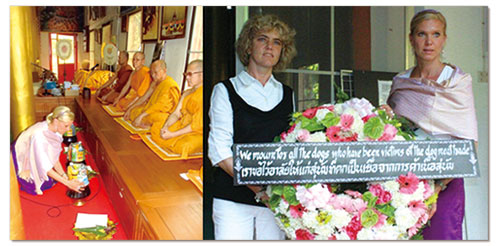 Her Royal Highness Princess Maja at the Wat Rampoeng temple in Chiang Mai, Thailand

As a gesture of compassion and in sympathy for their suffering, Princess Maja attends a mourning ceremony for all dogs that have died through the canine meat market.
With an unbelievably large number of stray animals still being killed in Europe, Her Highness is calling on the European Union to ban the euthanizing of stray animals and to enact other animal-protection measures. As an ambassador for the European Animal and Nature Protection Association (ETN), She campaigned vigorously for closure of the animal-killing station, 'Stupini' in Romania on September 2011, and thus saved 600 dogs.
For her outstanding work in improving the lives of Europe's animals, Her Highness was honored with the Shining World Heroine Award by Supreme Master Ching Hai. During an award ceremony held in Hamburg, Germany in the presence of journalists and guests on September 16, Golden Year 8 (2011), our German Association members presented the Princess with a beautiful crystal Award plaque, a €10,000 check from Master to support and further Her Highness's noble work, a Heroine jacket, a selection of Master's DVDs and books including the #1 international best-seller The Noble Wilds, an organic tea set and a painted cup. In Her Award letter to the Princess, Master wrote, "Since we reap what we sow, the doors of Heaven are surely open wide for You and we pray that a sparkling gold stream of blessings showers down upon You, and fills Your lovely heart and mind with the most exquisite peacefulness and bliss."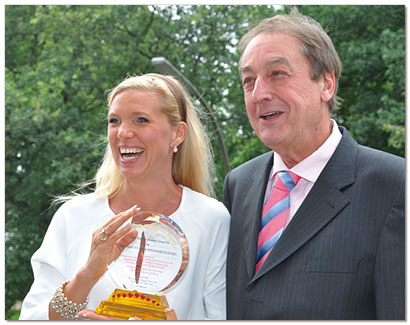 Princess Maja with Mr. Dieter Ernst - President of ETN
Princess Maja was deeply touched by the Award, saying, "I am glad that my commitment, my efforts for animals have found international approval, as far as America, as far as Asia, and moreover by such a person. My heartfelt gratitude and also my deepest respect to Supreme Master Ching Hai."
In a follow-up letter, Princess Maja graciously informed our Association that Master's funds will be used to support a large-scale spay-and-neuter initiative being organized for stray dogs in Chiang Mai, Thailand. The Princess will personally travel there with a team of veterinarians, who will also train local veterinarians in the latest surgerical techniques as well as provide medical care to the canines. Master further contributed US$30,000 to support the Princess's urgent project to halt the transporting of stray dogs from Thailand to Âu Lạc for meat. She sent the following sweet note to the Princess: Your Royal Highness, such an honor to know you, Princess. You are a true royal inside out. May all blessing be forever in your life. With all my love and respect, ♥♥ Ching Hai
In a special message to Master, Princess Maja said, "We both are part of a network, in which we raise our voices together, our voices for animals, our voice for a life of dignity, for respect, for life, for the interaction of people with each other." The Princess also mentioned that she feels close to Master and regards Her as a soulmate, because they share many things in common such as artistic creativity and a love of animals. "I look forward to our meeting each other someday. I am sure that will happen. No matter where, let me know," she added.
We applaud and celebrate the kindhearted deeds of Her Royal Highness Princess Maja von Hohenzollern, a defender and protector of the meek and helpless. We also extend our sincere respect and thanks to her for her steadfast commitment to safeguarding and bettering the lives of our beautiful animal co-inhabitants.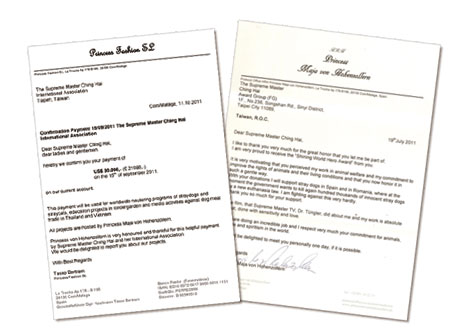 Receipt in the amount of US30,000 (Euro21,986) for the contribution from Supreme Master Ching Hai

Reference:
For more information on Her Highness Princess Maja von Hohenzollern, please visit:
www.Prinzessin-von-Hohenzollern.de