France
Warriors for Freedom of the Press
By Paris News Team, France (Originally in French) 2011.06.25
Reporters Sans Frontières, RSF, is a French non-profit organization with international presence. Under the motto "Don't wait to be deprived of news to stand up and fight for it," RSF has defended freedom of information on a daily basis since its inception in 1985. Their mission is many-fold, which includes inform, act, and support. Firstly, their researchers who each manage a region or a topic, write up and release reports to inform people of their findings on incidences in the world where the freedom of press is violated. Secondly, they take action on the findings to defend reporters in the field as well as to correspond and meet with the authorities or governments in question. And lastly, they offer help, financial and/or material support, to reporters and media in difficulty.
Commenting on the importance of their work, RSF's General Director, Mr. Jean-François Julliard said, "This fight is essential to us, because without the freedom of the press there will be no democracy. We think that the freedom of the press is the most important, that it must be profoundly defended. We do not have a corporatist approach, we do not have an association of reporters. We defend the freedom of the press in a sense that it is the people's essential right. We defend the right of people to have access to free information."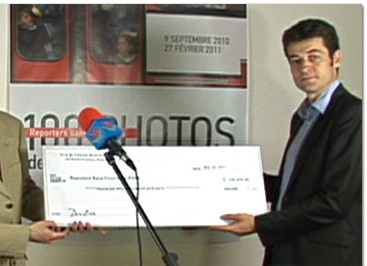 In recognition of RSF's nearly 30 years of remarkable work and achievement in the field, Supreme Master Ching Hai honored this respectable organization with the Shining World Hero Award, together with a contribution of US$150,000 in support of their noble endeavors. These were presented to Mr. Julliard by our Association member on June 16, Golden Year 8 (2011) in France. In Her letter, Master wrote, "This Award is presented in recognition of the dedication and bravery of all reporters risking their lives on duty, and for your organization that supports them by promoting greater freedom of expression for the world's media. Your enlightened leadership is courageously safeguarding human rights and the fundamental principles of journalism – paving the way to a brighter and better world."
Mr. Julliard expressed his deep gratitude and resolution to Master in response, "We are very touched by this Award that you are giving us today. It is very important to us, but most importantly, it encourages us to continue and carry on with our actions, namely our actions to defend journalists who work on issues regarding the environment, who try their best through their articles, their reports, to protect the planet. I think this is a cause to which you are particularly bound and sensitive. So this Award shows us how useful our work is, and it prompts us, pushes us to always defend more the right to inform. So thank you for using this Award to encourage us to continue in that direction." In addition, Mr. Julliard noted in the thank you letter that Master's funds will enable the organization to help imprisoned media members and their families as well as update its annual report on press freedom and environment.
May Heaven bless RSF and its respected journalists and staff for all their noble endeavors to ensure the media remains free to disperse vital information on global warming and many other critical issues. We pray that our world will soon be awakened and through accurate reporting from the free press, individuals can make life-saving choices that would help sustain our planet.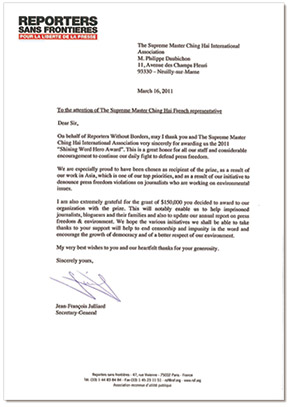 Thank you letter from Mr. Julliard for the US$150,000 contribution from Master
Reference:
For more information on Reporters Sans Frontières, please visit: http://en.rsf.org/