United States of America
Award Day Honors Blessed Abode For Exotic Birds
By Arizona News Group, USA (Originally in English)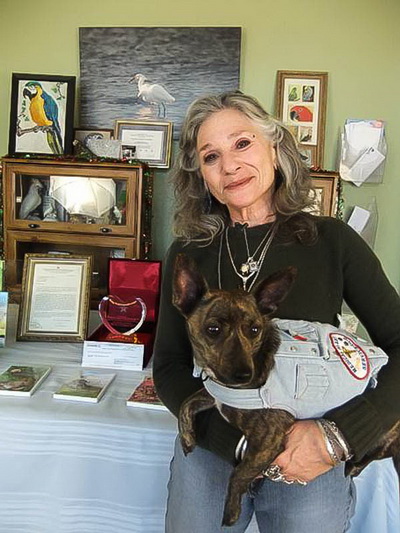 Ms. Sybil Erden of Oasis Sanctuary is honored with Shining World Compassion Award.
Over 700 avian friends, including very beautiful and colorful parrots, cockatoos and macaws, are fortunate to have the Oasis Sanctuary in Arizona, USA as their lifelong home. Many of these highly intelligent and sensitive "psittacines" or parrot-type birds have suffered great trauma during their captive lives, but now they have a new start on life thanks to the loving care and foresight of the Oasis Sanctuary founder and president, Ms. Sybil Erden.
On December 17, Golden Year 8 (2011), Ms. Erden was honored with the Shining World Compassion Award in a ceremony that took place at the Sanctuary. Our Association members presented Ms. Erden with a beautifully framed letter signed by Supreme Master Ching Hai, which stated:
"Your immense love radiates throughout your work as meticulous care is taken to ensure the wellbeing of each and every Oasis resident, paying particular attention to those who have suffered past traumas and those with 'special needs.' Our heartiest salute to you, Ms. Erden, for your untiring efforts towards helping these colorful, beautiful, sensitive, intelligent, loyal, trusting and wondrous creatures! May Heaven's immense blessings be showered upon you for all your noble endeavors that bring hope and a brighter future for all!"
An engraved crystal plaque was also presented to Ms. Erden along with other gifts from Supreme Master Ching Hai, including Her books, DVDs and CDs, as well as vegan chocolates and cookies to share with the sanctuary's dedicated staff. In addition, there was a contribution of US$10,000 from Master to further the Sanctuary's compassionate work.
Ms. Erden gratefully accepted the gifts. In a personal thank you addressed to Supreme Master Ching Hai, she said,
"I am humbled and very honored to be receiving all of this for the Oasis. I cannot thank her enough. And I wish her health and creativity in 2012."
Ms. Erden noted that the generosity has come at an extraordinary point in time and that it will be very, very helpful to the sanctuary. She explained that they were short of funds this year, and that this Award money would be used to provide food and medical care for the birds.
News of the Award first came to the attention of the staff at the Oasis when a show about the Sanctuary aired on Supreme Master Television. Upon hearing news of the Award, Ms. Janet Trumbule, Executive Director of Administration, wrote in a personal email to our Association representative:
"We are honored and blessed to receive the Shining World Compassion Award and contribution. I was filled with pride and joy for the birds when I saw the announcement at the end of the show."
The Oasis staff members soon shared their excitement about news of the Award with supporters in a special email announcement headed "The Oasis Wins International Award!!" The email said:
"About two months ago a Video Crew from "Supreme Master Television" came out to visit and film the facility, the birds and the staff. As a result of the visit, the founder, Supreme Master Ching Hai, has awarded The Oasis Sanctuary with the "Shining World Compassion Award." With the award comes a check for ten thousand dollars!!"
"Without the help of all of you out there, our supporters and Friends of The Oasis, we could not have gotten to the point we are at now, a point in time when recognition of the work The Oasis does has grown to international proportions!"

"We at The Oasis Sanctuary are delighted to be included among the many worldwide organizations to be featured."

Thank-you card from Oasis Sanctuary for US$10,000 contribution from Master
To learn more about the extraordinary work of Ms. Erden and the Oasis Sanctuary staff, and the amazing intelligence and abilities of these highly evolved avian friends, including the very talkative Great African Greys, readers are invited to watch "The Oasis Sanctuary: A Forever Loving Home for Exotic Birds" featured on Supreme Master Television.
More information about the Oasis Sanctuary can be found at www.the-oasis.org