United Kingdom
Animal Sanctuary Provides Hope And New Life
By United Kingdom News Group (Originally in English) 2011.02.04
The Horse Refuge and its founder, Ms. Sara Tuppen, receive the Shining World Compassion Award.
In 1995 Ms. Sara Tuppen established The Horse Refuge, a sanctuary for abused and abandoned animals in Kent, United Kingdom. The Horse Refuge became home to a colorful family of approximately 150 animals including horses, dogs, cats, chickens, pigs, peacocks, parrots, geese, ducks, deer, a cow, a goat and an owl – each given his or her own name. Many of these precious beings could have lost their lives if it were not for Ms. Tuppen's compassionate help.
Before starting The Horse Refuge, Ms. Tuppen led a charmed life as an assistant to Lord Houghton of Sowerby (1898-1996) in the British House of Lords. For 15 years, Ms. Tuppen worked with Lord Houghton on legislation to improve animal welfare.
Then in 1995, she and her husband Mr. Alan Ross embarked on a new life. They transitioned from their posh lifestyle and sold their GBP 200,000 home and everything they owned to help old, sick, abused and unwanted animals. Ms. Tuppen and her husband moved to a farm where they rented land and began living in an old shed without central heating or water. Ms. Tuppen cooked on a camp stove and purchased clothing from charity shops, giving everything she had to the animals. She was so cold during the winter that she developed frostbite on her fingers and toes.
Many of the animals needed care around the clock, leading Ms. Tuppen to wake up every few hours during the night to administer medicine.
After learning of Ms. Tuppen's unwavering dedication and unconditional self-sacrifice to ensure the safety and welfare of vulnerable animals, Supreme Master Ching Hai honored her and The Horse Refuge with the Shining World Compassion Award in February Golden Year 8 (2011). The following is an excerpt from a letter written to Ms. Tuppen: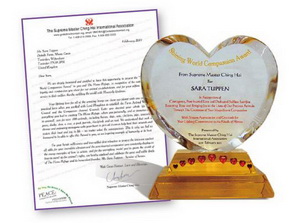 We are deeply honored and gratified to have this opportunity to present the "Shining World Compassion Award" to you and The Horse Refuge in recognition of the outstanding loyalty and compassion you show for our animal co-inhabitants and for your selfless spirit of service to their welfare. This is why we feel so honoured to be able to offer this Award to you, as an inspiring example of humanity at its best. For your heroic selflessness and iron-willed determination to protect the innocent against all odds, we hereby applaud and celebrate the great and noble deeds of The Horse Refuge and its benevolent founder, Ms. Sara Tuppen – heroine of horses.
With Great Honour, Love, and Blessings,
Supreme Master Ching Hai


Supreme Master Ching Hai also contributed US$10,000 to help further The Horse Refuge's noble cause, which was gratefully received.
A few months later in May 2011, Ms. Tuppen's bank account was empty and she had no food to feed the animals the next day. Afraid they would be evicted and some of the horses would lose their lives, she went outside, looked up to the stars and prayed for help.
The next day she received a call from the local contact person for The Supreme Master Ching Hai International Association informing her that Master had kindly offered another donation of US$30,000. Ms. Tuppen was moved to tears, knowing that Master had heard her prayers the night before and had answered immediately.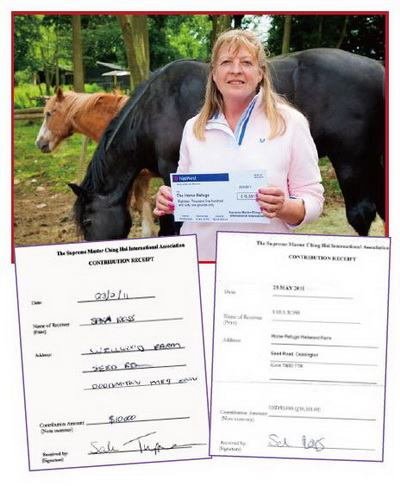 Receipt from The Horse Refuge for US$30,000 and US$10,000 contribution from Master
In late 2011, The Horse Sanctuary was again in need of money, and English actress Ms. Jenny Seagrove came to the rescue. Ms. Seagrove was able to rehome half of the horses and all the other animals within the first six months of operations, and relocated the remainder of the horses, purchased the land and set up a charitable organization called the Mane Chance Sanctuary to continue Ms. Tuppen's dedicated work in caring for the animals. For more details, please visit www.manechancesanctuary.org
Our heartfelt thanks to Ms. Sara Tuppen for putting the needs and care of these precious animals above her own comfort and financial security. We send our prayers to her and all the animals for peace and contentment. Also, our sincere appreciation to Ms. Jenny Seagrove for establishing the Mane Chance Sanctuary.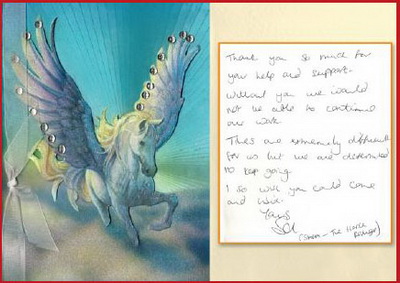 Thank-you card to Master from Ms. Sara Tuppen