Australia
Tank & Muck - Two Canine Heroes Team Up to Save Toddler
By Brisbane News Group, Australia (Originally in English)
In December last year, Mackay, Queensland, toddler Max Hillier was saved from drowning in a neighbor's dam by two heroic dogs. Tank, a Rottweiler-cross, and Muck, a Staffordshire-cross, pulled the two-year old out of the water and alerted the neighborhood by barking.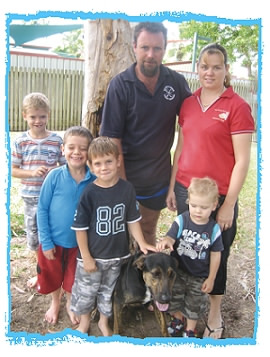 The Hillier family with brave Tank. Young Max is standing in front of his mother.
Tank, cared for by the Hilliers, and Muck, cared for by the Crawleys, neighbors of the Hilliers, were presented with Shining World Hero Award plaques and gifts by Association members from Brisbane on behalf of Supreme Master Ching Hai on May 11, Golden Year 5 (2008).
The families of both dogs, including little Max, attended the presentation. At first the families were curious about the special "Lady" who had noticed their dogs' heroic act from across the world and were interested in finding out where they could see more stories about dogs like theirs. They also wished to send their gratitude to Supreme Master Ching Hai for the beautiful Awards and gifts. The dogs especially loved their SM Doggie clothes.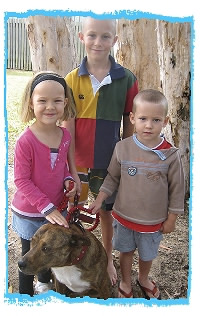 The Crawley kids with their beloved family member, Muck.
Congratulations to Tank and Muck on receiving their Shining World Hero Awards for their courageous swift actions and clever team work which saved the life of young Max.
Reference:
http://www.abc.net.au/local/stories/2008/03/192194808.htm