United States of America
Mr. Jerry Mika - Honesty is the Best Policy
By Supreme Master TV News Team (Originally in English)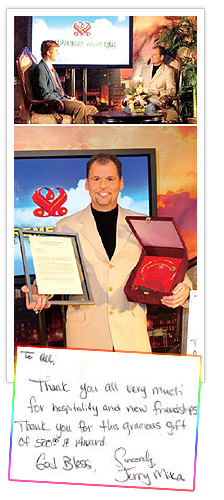 On January 6, Golden Year 5 (2008), Supreme Master Television was honored to welcome Mr. Jerry Mika to its studio in Los Angeles, California, USA, where a representative presented him with the Shining World Honesty Award and a gift of US$500 on behalf of Supreme Master Ching Hai. The Award was given in recognition of Mr. Mika's outstanding virtue, noble integrity and honorable action in returning a check of $2,245,342 from the California State government that was mistakenly made out to him. To Mr. Mika, the return of the check was a straightforward matter. He firmly believes that "honesty is the best policy in anything we do in life and it comes down to your parents, your family, your friends as well as how you're brought up." In receiving the Award, Mr. Mika expressed his gratitude to Master: "First of all, I'd like to again, thank you for your humbleness, kindness, and for granting me this award. It means a lot to me and the people that I know. And I will share this, and spread the word about you and all the good deeds you do. Thank you very much."
Mr. Mika, who runs a non-profit organization called the Providence Foundation to assist Nepalese sherpas, recently helped raise over US$11,000 to organize educational programs and purchase schoolbooks for their children. Regarding his work he said, "If we give up just a little bit of our time to help somebody, look at the difference it makes, and their difference of helping will result in more helping; it's a chain reaction. So my pledge is to help these children, and I wish other folks out there would make a pledge to help somebody else, too."
Thank you for your shining example of noble honesty, Mr. Mika! May Heaven bless your compassionate endeavors to improve the lives of the Sherpa people of Nepal. We wish you the very best!