Philippines
Mr. Inspector Ryan Monongdo, Mr. Rhuniel Kylle Venerayan, Mr. Rhubert Venerayan and Mr. Noel Jarabata - Officers and Civilians Together Save Victims with Selfless Spirit
By Formosa News Group (Originally in Chinese)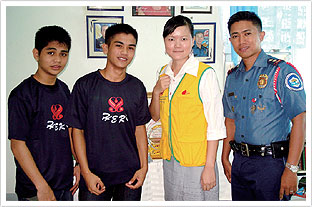 Inspector Ryan Monongdo (right), Mr. Rhuniel Kylle Venerayan (left) and Mr. Rhubert Venerayan (second on left).
When their hometowns were hit by floods, Inspector Ryan Monongdo and two teenage brothers, Rhubert and Rhuniel Kylle Venerayan from San Jacinto Town, as well as Mr. Noel Jarabata of Mangaldan Town bravely partook in the rescue operation oblivious of the dangers to their own lives. In recognition of their heroic actions, on November 12, Golden Year 6 (2009), our Association members from Taipei went to the Philippines and presented the Shining World Hero Award to each of the four heroes, together with Master's appreciation letter, publications and hero T-shirts.
Inspector Ryan Monongdo recalled that after the typhoon and heavy rains, residents of San Jacinto Town were trapped by the turbulent, fast-rising flood waters. As he had limited manpower in the police station, when he spotted the Venerayan brothers passing by, he quickly asked them to join the rescue force. The two brothers, who had been trained in the Reserve Officers' Training Corps, joined the work team without hesitation. Together, they rescued 130 residents using floating mattresses. Although the two siblings were only in their teens, they were very determined and courageous. Throughout the night, withstanding the cold waters, they continued to bring the people to safety. Inspector Monongdo emphasized that it was due to the concerted efforts from the two young brothers and his police colleagues that the work went on around-the-clock, allowing them to successfully transfer the victims to a safe area. Both the Inspector and the Venerayan brothers were deeply grateful to Supreme Master Ching Hai for honoring them with this Award, with the elder brother, Rhubert, even requesting many SOS flyers to distribute in his school.
When Typhoon Parma struck Mangaldan Town, Mr. Noel Jarabata was told that the neighboring village was hit by a flood and required basic necessities. He quickly carried food and water to the people there. To do this, he first tied one end of a long rope to himself and the other to an electricity pole, then waded across the turbulent waters, bringing the much needed items to the many villagers. Mr. Jarabata expressed his sincere gratitude to our Association and other groups who often rendered relief in the Philippines, helping disaster victims such as himself and other local people. He was also very thankful to Supreme Master Ching Hai for encouraging him with this Award, and wished Her longevity and good health.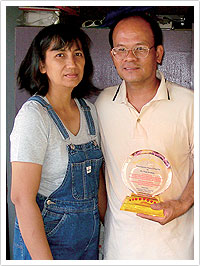 Mr. Noel Jarabata (right) and his wife