United States of America
Loving Life and Basketball, Vegan NBA Champ John Salley
Compiled from Supreme Master Television interview (Originally in English)
Towering at 7 feet tall, John Salley was not only the first player in NBA history to win four championships with three different teams but also one of the foremost advocates of the life-sustaining and Earth-saving organic vegan diet.
Growing up in Brooklyn, New York City, U.S.A., John's admirable work ethic led him to graduation from Georgia Institute of Technology. In 1986, he was selected in the first round of the elite NBA draft by the Detroit Pistons. After winning two championships with Detroit, John had a chance encounter with a holistic doctor who changed his life. The meeting rekindled his college interest in becoming a doctor, and also made him realize that being a world-class athlete still could not guarantee him protection from meat-related diseases like cancer. Thus, his rewarding new life as a vegetarian began in 1991. Being a vegetarian gave him an edge over his opponent. "He couldn't beat me as long as he was harboring tons of flesh in his stomach," John said.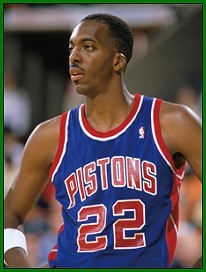 Based on his own personal experiences, John firmly believes in the healing properties of a plant-based diet. Despite many of his family members having died of cancer, he keeps his physical "temple" as clean as possible with a pure vegan diet along with oxygenating exercises. He has stated, "Get back to eating green, organic, natural vegetables and cancer would be eradicated." By choosing a healthy lifestyle, he has been able to accomplish much, feel new things, and stay young. He inspired one of his cousins to turn away from the meat diet, to lose over 100 pounds, and to get back in shape. John's mother at the age of 84, has also become a vegetarian under his influence!
About two years ago, John started his own business by selling 100% organic, vegan and kosher foods with no animals used or harmed in the production process. He proudly stated, "When you choose John Salley's vegan and organic products, you are assured of naturally flavored foods grown without chemical fertilizers or pesticides."
As one of the most active celebrities endorsing the planet-saving, organic vegan diet, John Salley advocates veganism across the country, especially to children. On November 18, 2009, he attended an event on Capitol Hill in Washington, D.C., along with other like-minded politicians and celebrities, asking Congress to support Vegetarian School Lunch Options.
John is also a committed humanitarian, as he and his brother Jerry head the Salley Foundation. He is involved with Operation Smile and has travelled to Brazil on a mission to transform the lives of children living in poverty there. More recently, he has recorded public service announcements and conducted animal awareness campaigns with People for the Ethical Treatment of Animals (PETA).
John has been a positive role model at every stage of his life, and this selfless determination has extended into the entertainment field. He has acted in a number of Hollywood movies, hosted an Emmy Award-nominated sports show, and currently owns his own production company.
In addition to his various interests and ambitious projects, John has been a very spiritual being since childhood. He respects all the world's major religions and meditates every day. He lives according to his own innate goodness and conscience. In one of his books, A Better Life Booklet, he emphasizes both inner and outer cleanliness. "Cleanliness, they say, is next to Godliness, and so I say that being clean doesn't just mean on the surface, it also means inside, it includes everything—clean thoughts, positive thoughts, clean clothes, clean mentality, clean breathing. Everything should be clean! It will bring you closer to that feeling of Godliness."

Recognized as a Vegan Hero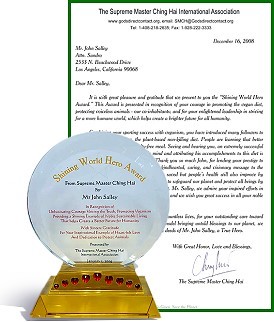 For his tireless efforts in promoting veganism, John was honored with the Shining World Hero Award from Supreme Master Ching Hai. After receiving the Award and reading some of Master's books, he graciously received the Supreme Master Television staff into his home. He rarely entertains guests in his private estate, but he felt that our group is different. "Let me let them in," he said to his assistant. "You know they'll enhance me and I hope that I enhance them as well."
We applaud your noble and heroic deeds, John Sally! Thank you for being a role model of success in both the field of basketball and in life. May God bless your future endeavours to inspire more people to live in perfect health and compassion.