Chile
No Pets Left Behind - Dr. Macarena Zanelli
By Santiago News Group, Chile (Originally in Spanish) 2008.08.14
Dr. Zanelli and students in Chaitén rescue team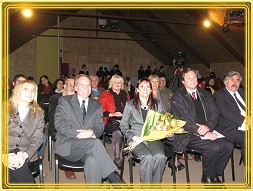 Distinguished guests attending Dr. Zanelli's Award presentation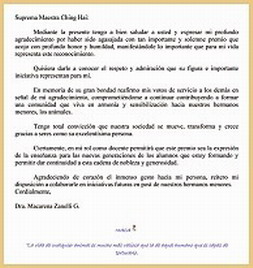 Thank you letter from Dr. Zanelli.
On August 14, Golden Year 5 (2008), our Association members from Santiago traveled to a southern city of Chile, Puerto Montt, to present the Shining World Compassion Award to Dr. Macarena Zanelli on behalf of Supreme Master Ching Hai. The Award was to honor Dr. Macarena Zanelli for her heroic actions in an animal rescue operation during a recent volcanic eruption in Chaiten.
When a life-threatening volcano erupted in May, the government ordered the immediate evacuation of hundreds of families, who had to leave their beloved pets behind to quickly board ships to be transported to other cities. In response to the desperate plight of the animals, without thinking twice, Dr. Macarena Zanelli, head of veterinary medicine at the University of Saint Thomas in Puerto Montt, led a dozen students and veterinarians to travel to Chaiten in search of the pets that couldn't go with their human companions. The mission was difficult as the volcano continued to spew ash even on the sixth day and the area was only accessible by air or sea. With the help of the Chilean Air Force, the rescue team arrived with special food and medicines. They collected pets from the courtyards of the houses and brought them to a municipal gym in Puerto Montt, where they were meticulously cared for and fed.
The Award ceremony took place in a large auditorium at the University of St. Thomas. Invited guests included the Mayor of the Region, the Rector and the Chief Race of the University, the Commander of the Chilean Air Force ― Mr. Walter Kraus, as well as many students and media. The "Sheltering a Friend," an institution that continued caring for pets until now, also attended the event.
In her acceptance speech, Dr Zanelli said: "This Award, I have to say, is for the recognition of a group of people who set aside their personal interests and ventured to serve our younger brothers and sisters, the animals. I feel we just provided a service to the neediest and most vulnerable, our animal friends, and it is our duty as a school to train our students to put selfless service and the practice of healing above personal interests and financial gain…Finally, I thank The Supreme Master Ching Hai International Association for this tremendous acknowledgement, for showering me with attention, and for taking the initiative to present this Award to me. I appreciate it and accept the Award with pride. It reaffirms my commitment to my job and to serve humankind. It shows that there are still good deeds in this troubled world and that there are more virtuous people than uncaring ones. It is precisely with these values that we can build a healthier, kinder and more generous society."
The ceremony was concluded with an exquisite vegetarian cocktail party organized by our Association with help from the Head of the Gastronomy Department, Mr. Felipe Yanez, and his students. Our Association members also took the chance to share with the local people Alternative Living flyers as well as information about Supreme Master TV and the urgency of the global warming crisis. They are especially grateful to Dr. Victor Alvarado and journalist Miss Anatolia Soto for their enthusiastic assistance and all that they did to make this event successful. They also wish to thank Master for this wonderful experience that allowed them to meet such beautiful people as Dr. Zanelli who risked her life to rescue our loving animal friends in a time of need.