Macedonia
A Maestro Leads the Way with a "Plant Your Future" Idea - Mr. Boris Trajanov
By Bulgaria News Group (Originally in Bulgarian) 2009.03.01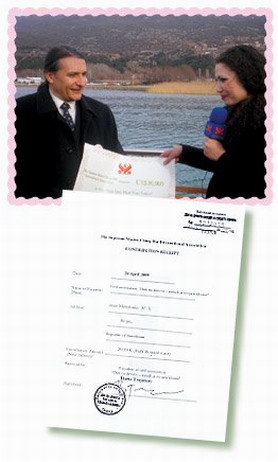 Receipt from "Tree Day - Plant Your Future" Civil Association of Macedonia for the EUR30,000 contributed by Master
An honored UNESCO Artist for Peace, the world-renowned opera singer Boris Trajanov has introduced the environmental cause to his countrymen in Macedonia. Through his nationwide travel, he cultivated the concept of planting trees to save the Earth among young people in kindergartens, schools and orphanages. On every available occasion, Mr. Trajanov planted trees together with those he addressed, emphasizing the importance of green foliage to the Earth's environment and climate. Peace and harmony grew amid people of all ages, backgrounds and different religious groups as they worked together for a common noble cause.
On March 12, Golden Year 5 (2008), Mr. Trajanov launched the "Plant Your Future" initiative, aiming to have 10 million trees planted in Macedonia by the end of the year to revive forests ravaged by fire. Given that the country has a population of only two million, this was an ambitious campaign. The Macedonian government supported this national effort by declaring the day a public holiday, which resulted in huge turnouts that saw two million new trees planted in 63 sites around the country. As the end of the year approached, another mass reforestation effort was undertaken in this Balkan state on November 19, when six million trees were planted in a single day at about 100 designated sites. This "Tree Day" was again declared a national public holiday.
Prior to Tree Day, on November 17, Supreme Master Ching Hai conferred the Shining World Protection Award on Mr. Boris Trajanov in recognition of his staunch determination and tireless efforts to protect and enrich the Earth's natural ecology. The Award was presented by representatives of The Supreme Master Ching Hai International Association in the presence of Macedonian ministers, members of the media, delegates from ecological organizations, musicians and others.
To further support this noble cause, Master contributed EUR30,000 to Mr. Boris Trajanov's project and the check was presented on March 1, Golden Year 6 (2009), right before the next tree-planting session. Mr. Trajanov, surrounded by many invited guests, expressed his deep gratitude for Master's encouragement and generosity. He felt very close to Master and is looking forward to meeting Her in person. He said he was touched immensely by Her letter of appreciation last time and commended that Master is the first person who really understands their idea, which is not only to make our planet a greener, more beautiful place to live in, but also to unite all people, all religions and all nations. As a token of appreciation, he gave Master a special "Friend of Tree Day: Plant Your Future" golden badge.
We stand humbled by Mr. Trajanov's noble dedication in accomplishing this monumental mission, and take inspiration from his show of goodwill in seeking an even greater tree-planting initiative in tandem with other Balkan countries later on this year.