Au Lac
Discovering the Cure for Drug Addiction – Mr. Tặng Ngọc San
By Aulac News Group (Originally in English) 2008.12.04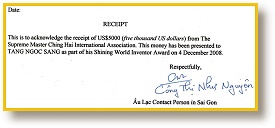 Receipt of US$5,000 for Mr. Tăng Ngọc San
On December 4, Golden Year 5 (2008), Mr. Tặng Ngọc San received the Shining World Inventor Award in recognition of his efforts in discovering a method for drug rehabilitation. Mr. San had previously been an addict for 24 years and during that time, his health deteriorated, his wealth vanished, and his wife and children suffered from starvation. One day, he decided to find a way to escape this prolonged torture. He went on an arduous journey, which took him to many remote mountainous areas. After going through much challenges along the way and thanks to Heaven's blessing, he was able to gather all the needed 15 ingredients to cure his own addiction and that of others around him. From 2003 to this day, Mr. San has cured nearly 100 people in his local district and other provinces such as Thanh Hóa, Nghệ An, Đồng Tháp, Yên Bái, Hà Nội, Vĩnh Phúc.
The ceremony was held in a warm atmosphere full of God's love and our Association members presented the Shining World Inventor Award on behalf of Supreme Master Ching Hai. Mr. Tăng Ngọc San was also given US$5,000 and Master's publications. Deeply moved by Master's supporting gesture, Mr. San said he would use the fund for the production of more addiction treatment medication for his community and other young Aulacese in order to bring about healthy living for the next generation. He cautioned the young people that "Drug addiction is a disaster for your own life, your family and the society. Therefore, I hope that you will stay away from it."
We wish you great success, Mr. Tăng Ngọc San, for your future endeavor in helping addicts to go back to their normal life and enjoy happiness with their loved ones.