Canada
Lexi - The Brave and Loyal Family Protector
By Montreal News Group, Canada (Originally in English) 2009.06.13
Early one Sunday morning in January Golden Year 6 (2009), Sergeant Andrew Ronalds and his two sons, aged two and five, were sleeping in the basement of their home in Oromocto, Canada, when a fire started. The barking of Lexi, the family Labrador Retriever, alerted Sergeant Ronalds. He came upstairs to find the back of his house on fire and quickly ran down to get his sons safely outside the home. Unfortunately, the flames were too much for him to re-enter for Lexi.
Upon learning of Lexi's noble sacrifice, Supreme Master Ching Hai posthumously presented the Shining World Hero Award to her in recognition of outstanding courage and unwavering loyalty. On June 13, initiates from the Montreal Center drove to Lexi's home and presented the Award and a US$500 contribution from Master to Sergeant Ronalds and his family. The Ronalds were extremely grateful to receive them in tribute to Lexi.
We are so glad to hear that Sergeant Ronalds and his two sons were kept from harm and wish for them to be blessed with a new home soon. Our heartfelt condolences for the loss of devoted Lexi. May her loving soul rest in the eternal splendor of the divine.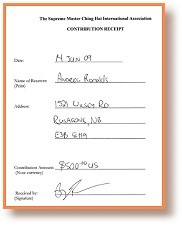 Receipt from Sergeant Ronalds for the US$500 contributed by Master