USA
Sea Scout Ship 41 - Teens Recognized for Contribution to Cleaner Waterways
By Ohio News Group, USA (Originally in English) 2009.07.19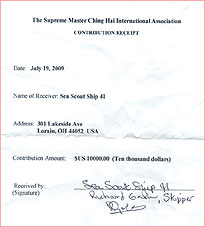 Receipt from Sea Scout Ship 41 for the US$10,000 contribution by Master
On July 19, Golden Year 6 (2009) in Ohio, USA, our Association members presented Ship 41, a local Sea Scout group, the Shining World Invention Award along with a US$10,000 contribution on behalf of Supreme Master Ching Hai. This Award was given in recognition of the team's inspiring creativity and outstanding achievement in cleaning up our precious ocean fronts.
Sea Scout Ship 41 won first place in the Interlux Waterfront Challenge, a nationwide contest promoting projects that enhance the environment. The youngsters developed a device called the "flotsam scoop," which removes floating garbage from marina or dock areas. The approximately five-pound scooping gadget is a half-bucket made of aluminum mesh attached to the end of a lightweight telescoping handle. The group is now offering the invention free of charge to anyone who would like to use it. The Ohio Department of Natural Resources ordered 21 of them to distribute to their marinas. In developing this tool, the scouts learned a principal that can be applied to other environmental issues, which is "keep it simple." Richard Gash, the skipper of Sea Scout Ship 41, said, "Oftentimes the solution is staring at you right in the face."
The group enthusiastically thanked Supreme Master Ching Hai for Her generous gift and gave Her one of their team hats. They said the Award would "help spread the word, because all it really takes to make the world a better place is for people to get out and start doing it themselves."
Thank you, Sea Scout Ship 41 team, for your simple and effective innovation that helps restore our coastal and inland waters! Your example is an inspiration for all of us, as everyone can make a positive difference.