Haiti
Ms. Islande Bonne Joseph - Brave Woman Rescues Neighbors during Hurricane
By Florida News Group, USA (Originally in English) 2009.02.15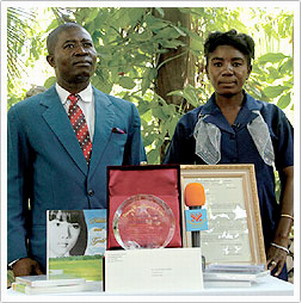 Ms. Joseph and her husband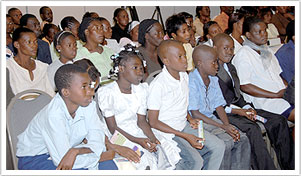 People Ms. Joseph rescued during Hurricane Ike and other guests at the Award Ceremony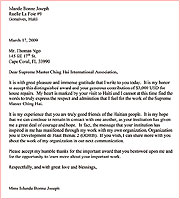 Thank you letter from Ms. Joseph for the US$3,000 contribution from Master
Ms. Islande Bonne Joseph, a native of Gonaives, Haiti, bravely guided some 50 people from the flooded streets to a ladder leading up to the safety of her roof, when Hurricane Ike brought dangerously surging waters to the city. Her courageous act and self-sacrificing spirit touched Supreme Master Ching Hai's heart who in turn granted her the Shining World Heroine Award.
On February 15, Golden Year 6 (2009), in front of over 50 guests from all over the city, including her husband, friends and the people she rescued, Ms. Joseph proudly received the Award, US$3,000 for repairing her damaged home,
Master's publications and a Heroine T-Shirt presented by our Association members on behalf of Supreme Master Ching Hai at Le Plaza Hotel in Port-au-Prince. When Master's appreciation letter to Ms. Joseph was read aloud to the audience, it was interrupted several times by thunderous applause. Ms. Joseph thanked Master for the Award and the wonderful gifts. In a follow-up letter, she expressed her deep respect and admiration for Master's work and also said, "It is my experience that you are truly a good friend of the Haitian people." The event encouraged and inspired her to spread the same message of love through her own association, "Organization for the Development of Haut Byenak (ODHB)."
A hero's salute and God bless you, Ms. Islande Bonne Joseph, for your warm-hearted courage and kindness. Wishing you every success in all your noble endeavors as we pray that the lives of the good people of Haiti will soon return to normal.