Chile
Ms. Elba Muñoz Lopez - The Guardian of Mistreated Primates in Chile
By Santiago News Group, Chile (Originally in Spanish) 2009.12.07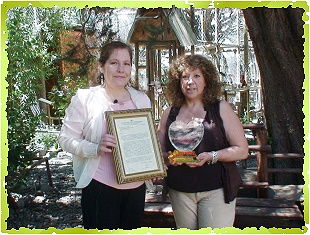 Ms. Lopez (right) receiving the Shining World Compassion Award
One day in 1994, Ms. Elba Muñoz Lopez was surprised to find a pot-bellied monkey coming to her door in Peñaflor, Chile. Wondering how such a tropical animal had left its natural habitat to end up being there, Ms. Lopez initiated an investigation. She was saddened to discover that each year, thousands of primates are taken from the wild and sold on the black market, with only ten percent surviving the ordeal and nearly all facing lives of misery, pain, torture and early death in circuses, zoos, or universities for scientific experiments.
The tragic plight of animal trafficking awakened her overwhelming love. Ms. Lopez courageously formed the non-profit Primate Rescue and Rehabilitation Center in Peñaflor, nurturing primates with a special purpose in life—as messengers of the suffering and injustice their kind must endure. Since 1996, Ms. Lopez has rehabilitated and cared for 176 primates of 12 different species while lecturing in schools, writing books, and producing a documentary on cruelty which helped end the exploitation of monkeys in Chile. With motherly attentiveness, she retains at her home the sickest, oldest and youngest primates who need special care. Medical and dental services also are provided for those who have problems due to mistreatment.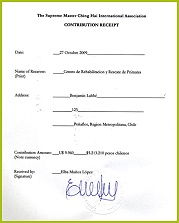 Receipt from Ms. Lopez for the US$10,000 contribution from Master
Hearing the heroic deeds of Ms. Lopez, Supreme Master Ching Hai honored her with a Shining World Compassion Award and US$10,000 to support her work. "Ms. Lopez," Master wrote in the Award letter, "your devotion has brought us to tears, not only for the sad fate of the primates but also for your touching, inspirational and unconditional example of love, and for your relentless commitment and bravery to end the inhumane treatment of God's cherished creatures."
In December, Golden Year 6 (2009), the Award and gift were presented by our Santiago Association members to Ms. Lopez at her home in Peñaflor, where more than 40 dogs and a few rabbits were also accommodated. Expressing thankfulness for the recognition and most generous contribution, Ms. Lopez said she felt very blessed as she didn't expect to receive any award. She added that the monkeys were also pleased with her visitors, noting that instead of hiding from strangers as they usually do due to prior experience of maltreatment, they came to greet the Association members, doing funny things for them and playing with them.
Soon afterwards, Ms. Lopez sent an update letter to Master, telling Her that with the funds She provided, they have built new habitats, rescued four more capuchin monkeys and planted more fruit trees, making the once desolate place a paradise for the animals. We applaud and celebrate the benevolent and noble deeds of Ms. Lopez. May more people follow her shining example to become the voice of kindness and an angel of liberation for the defenseless animals.