Russia
Three Young Angels of Russia - Danila, Ivan, Lizy
By Mongolian News Group (Originally in English) 2010.07.24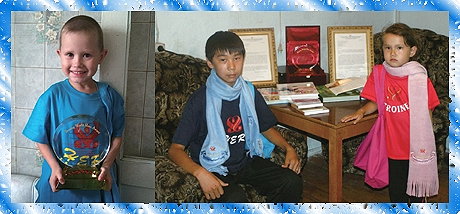 From left to right: Danila, Ivan and Lizy
On a cold winter day early in 2010 in Ulan Ude, Buryatia, Russia, the little boy Danila was out with his sister Valia and her friend Lizy. They were walking on the frozen river when ice beneath Valia's feet suddenly gave way and the 6-year-old girl fell through a hole into the icy river.
In desperation to rescue his beloved sister, little Danila did everything within his mighty power to help. Though only five years old, Danila used his teeth to grab Valia's hood, then cleverly braced his own tiny body on the ice to keep Valia afloat, remaining this way for about 30 minutes while Lizy quickly ran for help. When Lizy's 15-year-old brother Ivan arrived, he managed to rescue Valia from the water with great courage and strength, and carried her to the safety of his home where he administered first aid. When the adults arrived, all children had recovered and were safe and well.
In recognition of their remarkable loving devotion, bravery, exceptional endurance, intelligence and capability exhibited in saving a precious life, Master honoured Danila, Lizy and Ivan with the Shining World Hero Award which was presented to these sweet children by our Mongolian Association members on June 15, Golden Year 7 (2010). Each child also received a gift of US$500 to buy books, along with their favorite items, a Hero T-shirt, a warm colored scarf designed by Master, and Her best-selling animal books, all of which brought smiles to their faces.
Our wholehearted salute goes to these adorable super heroes for their selfless love and swift and wise response in such a critical situation. May their uplifting example of love in action inspire more to treat each other like dear family members under the grace of Heaven.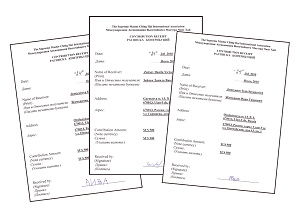 Receipt from Danila, Lizy and Ivan for Master's US$500 gift