Dr. Rajendra Pachauri - A Hero Advocating the Vegetarian Diet to Halt Global Warming
By Taipei News Group, Formosa (Originally in English) 2009.06.11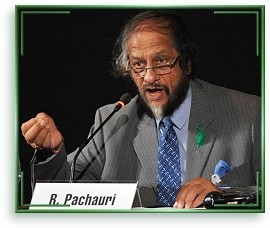 "…If you eat less meat, you will be healthier, and so would the planet."
Dr. Rajendra K. Pachauri
Dr. Rajendra Pachauri is one of the world's leading voices on climate change and planetary sustainability as Chairman of the United Nation's Intergovernmental Panel on Climate Change (IPCC) and Director General of the Energy and Resources Institute (TERI), an organization that researches and promotes sustainable development in India.
As early as the 1980s, when Dr. Pachauri was a doctoral student studying energy issues, he was already convinced that climate change would be an extremely serious problem and that people would have to shift towards using lower carbon fuels. In his 2007 Nobel Peace Prize Award speech, Dr. Pachauri mentioned the Hindu philosophy of Vasudhaiva Kutumbakam which means "the whole universe is one family." This simple phrase symbolizes the wisdom expressed by this humble and compassionate man as he strives to alert the world of the impending dangers of climate change and the real solutions to stop it.
On several occasions, Dr. Pachauri has stated that many of our diligent efforts to prevent world hunger or to create a greener world by planting more trees are essentially cancelled out because we don't address the root of the problem—Our Food Choices. If citizens around the world heed Dr. Pachauri's advice and reduce their meat intake, they will play a vital role in helping mitigate global warming. In 2008, Dr. Pachauri made international headlines with his bold advice, "Don't eat meat, ride a bicycle, be frugal—that's how you can help brake global warming." Later, he was invited to give more seminars addressing the climate change problem in relation to the livestock industry, pointing out to audiences the vital facts.
Being a strict vegetarian, Dr. Pachauri has been traveling the globe urging people to shift towards a plant-based diet. In May of this year, he gave a seminar in the city of Ghent, Belgium. The council was inspired to do their part to help the world combat global warming and decided to officially recognize Thursday as "Veggie Day" in their city.
To commend Dr. Pachauri for his extraordinary courage and wise leadership in disclosing to the world an effective way to halt global warming and to create a sustainable future, Supreme Master Ching Hai honored him with the Shining World Hero Award. On June 11, Golden Year 6 (2009), our Association members visited TERI and presented the Award to Dr. Pachauri, conveying Master's heartfelt respect and gratitude toward this Saintly Hero. Upon receiving the Award and other gifts, Dr. Pachauri humbly said, "I would like to salute Supreme Master Ching Hai for the remarkable efforts that she has mobilized across the planet, to create a sustainable future for the human race and all living beings who live on this planet. And I want also to convey my thanks for this Award which I've been given…and I hope all of us can work towards a sustainable, green and nature friendly future, because we really don't have a choice."In addition, he expressed his wish of having the privilege to meet Master in person.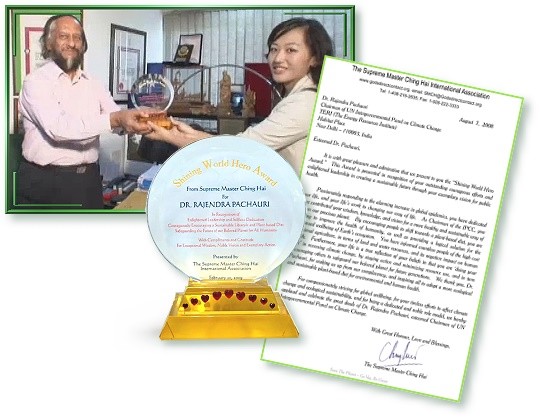 Dr. Pachauri also congratulated Supreme Master Television for its 3rd year anniversary, passing on his noble best wishes, saying, "…I hope on your anniversary, you will see that your coverage has expanded, that more and more people watch your channel, and are influenced by it. And I hope you can carry many more good messages for the human race by which we all work towards a much brighter and sustainable future."
In reply, Supreme Master Ching Hai has conveyed the following message to Dr. Pachauri, "My heartfelt gratitude for your courage in saving our world! And you are always welcome in our places, whenever you find time in your busy schedule. We are always together anyway, as we walk the same road. God be with you."
Dr. Pachauri, we applaud your ongoing determination to spread the message of vegetarianism to save the planet and also for imparting true information to individuals around the globe so they can make wise choices for the betterment of our world.

To watch the video with Dr. Rajendra K. Pachauri on
Global
Warning: The Impact of Meat Production and Consumption on Climate Change
, please visit:
http://video.Godsdirectcontact.net/magazine/AW951s.php