South_Africa
Mr. Francois Hugo - Compassionate Career and Valiant Voice for Cape Fur Seals
By Cape Town News Group, South Africa (Originally in English) 2009.11.03
Message from the seals: "It is very important that we remain alive, that we are blessed, because we are needed, for we represent a very powerful kind of love, a wave of love like that between a mother and her baby. And that type of powerful love is needed to swing the Earth back into balance. And where we are living, where we are swimming, that is the job we are doing."
~ ~ Dr. Rima A. Morrell, Animal Telepathic Communicator
He named her Sweety. She was ten months old and both her flippers had been severed by a fishing line. She could not swim or seek her own food, and was dying of thirst and hunger. Though he disentangled this beautiful seal pup, she was too weak to escape, thus remained in his tender care until she regained her strength to swim again. This most memorable encounter with this gorgeous marine creature awakened Mr. Francois Hugo to the plight of Cape Fur Seals and led to his founding of Seal Alert-SA ten years ago.
The annual Namibian seal massacre run begins on July 1 and continues until November 15. In the early morning before the tourists arrive to see the new-born seals, up to 140 untrained seasonal migrant workers converge on Cape Cross, Luderitz and Atlas Bay where they are authorized to bludgeon to death thousands of innocent baby seals. Approximately 60 percent of all the pups are born on these three coastal sites. During the group herding process for slaughter, some seals manage to escape. However, during the panic, many pups lose their mothers and end up alone, hungry, and drifting aimlessly in the sea. Some of these orphans swim hundreds of kilometers in search of food or their colony, but as they are young and inexperienced, many drown or otherwise die and are washed up on shore. Mr. Francois Hugo often rescues and nurses these orphans back to health. His first seal rescue left him with the invaluable lesson to always respect their freedom and to keep them unconfined even while in his care. Through his hands-on interactions with seals, Mr. Hugo has realized that they respond and function exactly like humans. "They think for themselves; they think what is right and they think what is wrong for them. When they see people helping them, they understand." To him, seals are the ultimate expression of love.
In July of year 2009, Mr. Francois Hugo courageously attempted to buy out the Namibian Seal Hunting Industry for US$14 million. For this valiant effort and noble cause, our most caring Master graciously contributed US$200,000, the largest financial support ever received by the organization. Mr. Hugo expressed his deep respect to Master and promised that every cent of this fund would go directly to saving the Cape Fur Seal species. Though this buyout attempt failed, he remains determined and very motivated to continue with his mission.
On November 3, Golden Year 6 (2009), Francois Hugo was honored with the Shining World Compassion Award from Supreme Master Ching Hai. He was most humbled by this recognition and has repeatedly expressed his heartfelt thanks to Master Ching Hai for Her most kind and incalculable assistance and encouragement. A portion of this fund has enabled him to equip and improve his center to better serve the seals.
We wish to thank Mr. Francois Hugo of Seal Alert South Africa for his laudable, dedicated and caring efforts to protect Cape Fur Seals. We pray that all beings will soon live together in peace and harmony. Through our individual choices and elevated collective consciousness, we can create Heaven on Earth where animals and humans live as one in mutual respect and love.
"I wish that humans could feel all the pain inflicted upon innocent animals of all orders, and I wish that it would stop and that all beings would be treated with respect and love."

~~Supreme Master Ching Hai
Mr. Francois Hugo's Thank You Letter to Master

Dear Supreme Master Ching Hai,
It came as somewhat of an unexpected shock to receive a call and confirmation from your Association members, informing me of your amazing donation of two hundred thousand United States dollars. More than this is the urgency with which you wanted to help the Cape Fur Seal species at the tip of Africa, and save them, because quite honestly it is the largest donation I have received in ten years, after having rescued over five thousand dying seals and campaigned heavily to end the seal slaughter in Namibia.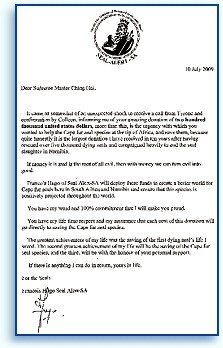 If money, it is said, is the root of all evil, then with money, we can turn evil into good.
Francois Hugo of Seal Alert-SA will deploy these funds to create a better world for Cape Fur Seals here in South Africa and Namibia, and ensure that this species is positively protected throughout the world.
You have my word and 100% commitment that I will make you proud.
You have my life-time respect and my assurance that each cent of this donation will go directly to saving the Cape Fur Seal species.
The greatest achievement of my life was the saving of the first dying seal's life I saved. The second greatest achievement of my life will be the saving of the Cape Fur Seal species, and the third, will be with the honour of your personal support.
If there is anything I can do in return, yours in life.
For the Seals Francois Hugo Seal Alert-SA
To watch the special program "Sands of Slaughter: The Brutal Culling of Cape Fur Seals" on Supreme Master TV, please visit: http://video.Godsdirectcontact.net/magazine/AW1069.php
For more information about the Namibian seal rescue efforts, please contact: sasealion@wam.co.za or visit
http://sealalertsa.wordpress.com