Mr. Genesis Tinshu - For the People: Helps International in Cameroon
By Texas News Group, USA (Originally in English) 2009.08.29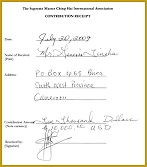 Receipt from Mr. Genesis Tinshu for the US$10,000 from Master
Helps International (HINT) is a charitable organization operating in Buea, a serene town which serves as the capital of the Southwest Region in Cameroon. It is situated at the foot of Mount Cameroon, the highest mountain in West Africa. In the past six years, with loving support and caring hearts, HINT has reached out to the community with practical hands-on assistance in a multitude of beneficial ways including buying school books and paying school fees for underprivileged children, offering computer skills courses to the public and providing microlending services to budding entrepreneurs. These measures reap immediate benefits enhancing the lives of individuals, children, families and communities, and in turn, uplift the prosperity and wellbeing of the entire nation. Often working under difficult conditions, the volunteers sacrifice the comforts of home for the benefit of the needy, with utmost dedication and professionalism.
Helps International was the recipient of the 2004 Global Junior Challenge Award, an honor bestowed by the Digital Youth Consortium based in Rome, Italy. The Consortium recognizes those initiatives using technology in an innovative manner to teach and train young people. HINT also recently ran a successful HIV/AIDS awareness campaign in the community of Ekona. Currently, it is researching a project in partnership with Engineers without Borders in the UK to provide clean drinking water to the village of Bonduma. Regarding the impact of their work, the founder and president of HINT, Mr. Genesis Tinshu, said, "There are people whose lives have been changed totally because of our presence; if we were not there, their children would never be able to go to school, or they would not succeed as they succeeded because they lack textbooks or they lack the fees. I believe that we have a good relationship with the people in this community . . . . They like our presence and they have been supporting us, and they really would like us to do more for the community."
After learning about this noble organization, Master honored HINT and Mr. Genesis Tinshu with the Shining World Compassion Award and contributed US$10,000 to their cause. Our Association members contacted Mr. Tinshu while he was in the United States and arranged to present to him on August 29, Golden Year 6 (2009), the beautiful crystal award plaque plus a framed letter from Master along with a selection of Her recent publications. After the presentation, Mr. Tinshu and our Association members enjoyed delightful conversation and the delectable bounty of a vegan feast.
We are truly grateful that such caring grassroots organizations such as Helps International exist in this world and are making a real difference in the lives of the disadvantaged every single day. May Heaven bless Helps International with much success in its future noble endeavors.