Dr. James Rolfe's Afghanistan Dental Relief Project
By Los Angeles News Group, USA (Originally in English) 2010.12.04
Dr. James Rolfe, a 71-year-old dentist from Santa Barbara, California, is the founder and current head of the Afghanistan Dental Relief Project (ADRP). Back in 2003, to bring relief and healing to the people of the war-ravaged country of Afghanistan, Dr. Rolfe took whatever equipment he could carry on his back and then traveled long distances until he eventually reached the remote and mountainous Wardak province, where most had never even seen or heard of a dentist. His tireless work to help especially orphans and widows soon gained the trust of the locals. In return, he found the people of Afghanistan to be proud and noble and felt they deserved better care.
Enduring setbacks and adversity that would test even the resolve of a much younger man, Dr. Rolfe has managed to return a number of times since that first visit, forsaking comfort and even risking his life to provide free dental services to the thousands who have come to his clinic on the outskirts of Kabul.
He also came up with the ingenious idea of transforming old shipping containers into dental labs equipped with chairs, x-ray machines and other necessities. Through his persistent efforts and the cooperation of the Afghan people, these labs were put into operation. Thus, the Kabul Dental Clinic and Training Center was born, treating patients and also providing an education for Afghanistan's first native dental assistants, clerical workers, hygienists and laboratory technicians.
In recognition of Dr. Rolfe's unprecedented selfless endeavors, Supreme Master Ching Hai honored him with the Shining World Compassion Award and a US$30,000 contribution to help further his noble work. Both were presented to him in Los Angeles, USA on December 4, Golden Year 7 (2010) by our local Association members.
Dr. Rolfe, who has used almost a million dollars of his own pension fund for the ADRP, was overjoyed at our group's visit and was deeply touched by the recognition and overwhelming support. Tears were in his eyes as he listened to the loving and beautiful letter from Supreme Master Ching Hai, which stated: "…Words fail to convey the depth of our respect and admiration for the courage you have shown in this epic undertaking of love... Love always prevails where might has failed! May Heaven bless your endeavours and keep you safe in her loving embrace." Holding the Award plaque to his chest, Dr. Rolfe graciously thanked Supreme Master for Her care and generosity, promising that Her contribution would be the seed money for expanding the Afghanistan Dental Relief Project's mission to more areas.
Later, Dr. Rolfe wrote the following heart-felt letter to Master, detailing the updates on the plan of ADRP and shared his realization of the sacredness of life.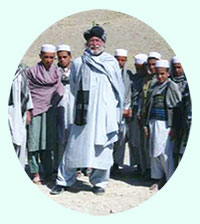 Dear Supreme Master Ching Hai,
Your generous support of our humanitarian project in Afghanistan has allowed us to begin our permanent teaching facility, which eventually will employ twelve dentists and treat over ten thousand patients a year. The center will provide classrooms for fifty dental technology students at a time, training orphans, widows, handicapped, single parents, and ethnically disadvantaged students to be dental hygienists, dental assistants, and laboratory technicians. Your contribution will change many people's lives, providing life-saving treatment to people who are on the verge of death from their teeth, ninety percent of whom have never had a dentist to go to. Disadvantaged students will become the future leaders in health care, authority figures empowered to serve the needs of their fellow citizens, able to empower their own lives and the lives of others. Your gift will become a monument to the power of our Spiritual Essence, manifested in physical form, showing people what can be accomplished by willful pursuit of God-Realization. Dedicating our lives to seeking the Will of God and constantly working to manifest that destiny will create a world that is truly of the people, by the people, and for the people. In making the inward commitment to seek awareness, we learn that we can communicate with God ourselves, and we come to fulfill our destiny as Beings of Light. Let it be so.
To bring this work to this point in time, I have had many interesting experiences. Living on half of the poverty level income, I have learned to survive solely by foraging in the urban environment, negating my impact on the Earth by utilizing resources that naturally exist as urban waste. I know now how to focus the spiritual energy I receive in order to create what the Spirit wants me to do. In this process, I have come to respect all things, seeing that everything is alive: the rocks, the air. Above all, we need to see that all life is sacred, and that the taking of life to sustain us is a sacred act, not to be taken for granted. As we are a part of society, we should serve as examples through our thoughts and actions. In that way, we will bring balance and harmony to the world around us. As we move into the future, may we see a world truly realized, having liberty and justice for all.
Dr. James
Heaven bless you, Dr. James Rolfe, for your loving dedication to the wellbeing of the citizens of Afghanistan. May your caring work benefit the many warm-hearted people of the nation, and inspire more to take actions of peace and love for an elevated world.
Receipt from Dr. Jim Rolfe for US$30,000 contribution from Master
Reference:
To learn more about the Afghanistan Dental Relief Project (ADRP), please visit:
http://www.adrpinc.org/