Aulac(Vietnam)
Mr. Hoang Trung Lap - A Loving Man Saves a Helpless Bear
By Hong Kong News Group (Originally in Aulacese) 2007.11.22
On November 22, Golden Year 4 (2007), representative of The Supreme Master Ching Hai International Association visited Mr. Hoang Trung Lap in Quang Tri Province, Central Au Lac, and presented him the Shining World Compassion Award. Mr. Lap, a man of great compassion, saved a bear whose energy had been drained while in the custody of hunters. He brought the bear home and cared for him until it recovered. He then sent the bear to an animal protection agency to give back its freedom.
Along with the Award plaque, our Association member also presented Mr. Lap US$500 from Supreme Master Ching Hai. Mr. Lap was very touched by Master's love and our Association. He said, "Through this event I realize that I've done something good and beneficial. I also promise that if I have a chance I will continue to do this work to the best of my ability."
We are thankful to Mr. Lap for his kindheartedness and lofty ideals in saving helpless animals. We hope that many more shining models of compassion emerge in the world sothat all beings can enjoy peaceful times .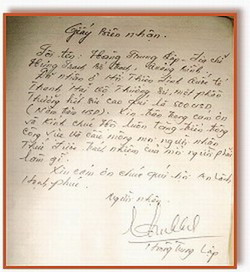 Mr. Hoang Trung Lap's letter of appreciation in receipt of Master's financial gift of US$500.