Bhutan
Ms. Marianne Guillet - "Dog Mother" of Bhutan
By Thailand News Group (Originally in English)
Known to the local residents as "Rochi Ama" or "Dog Mother" in Dzongkha, Bhutan's national language, the kind-hearted Ms. Marianne Guillet has taken in and cared for thousands of animals for over a decade. Born in France, Ms. Guillet, a geographer and an architect with a medical background, moved to the Himalayan Kingdom of Bhutan in 1997. Her home in Bhutan's capital, Thimphu, has since become a clinic, the Pilou Medical Center, in which she has treated over 30,000 animals including dogs, birds, monkeys, deer, pigs, horses and cows. At the clinic, there are special rooms for surgery, recovery, intensive care as well as a garden with many kennels for the dogs. Two Bhutanese staff are employed full time to help with the care of the animals. Ms. Guillet and her Dutch partner, Mr. Hendrik Visser, pay the helpers with their own funds and buy all the necessary rice, vegetables and fruit to feed their animal guests.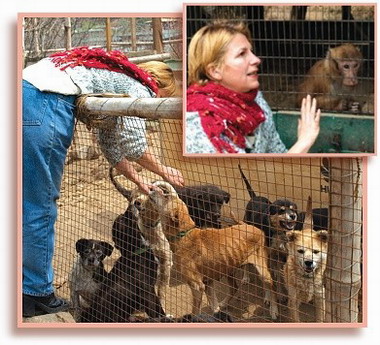 In recognition of her love and compassion for our animal friends, Ms. Guillet was presented with the Shining World Compassion Award by our Association members on March 21, Golden Year 6 (2009), on behalf of Supreme Master Ching Hai. With tears of gratitude, Ms. Guillet accepted the Award plaque, Master's gifts of US$10,000 and publications. She thanked Master for acknowledging her endeavor and said the money would be used to repair and rebuild the Pilou Medical Center so that it can provide better care and comfort to the animals. She even offered to help distribute SOS flyers, given by the Association members, to the important personages of Bhutan such as His Majesty Jigme Khesar Namgyel Wangchuck and the Ministers.
Our Association members were touched to see the joy and gratitude in the eyes of the animals at the clinic when they were with Ms. Guillet. May her example of compassion to animals help this noble country be a safe place in which animals and humans live together in peace and happiness.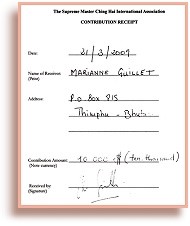 Receipt from Ms. Marianne Guillet for the US$10,000 contribution by Master