Australia
Rex - A Gentle and Brave Soul
By Melbourne News Group, Australia (Originally in English)
Rex, a 10-year-old mixed German Shorthaired and Wirehaired Pointer, saved a baby kangaroo's life near Bells Beach in Victoria, Australia. One day in March, Golden Year 5 (2008), Rex and his human companion, Leonnie, went for their usual morning walk with another dog. They noticed a kangaroo lying on the side of the road in front of their property that had been fatally hit by a car. Later that afternoon, Rex discovered a baby kangaroo still alive in the mother's pouch. He gently picked up the Joey with his mouth and brought it back to Leonnie's feet. The baby kangaroo is now doing well in a wild life sanctuary.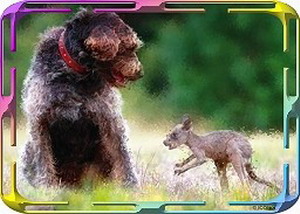 When our Association member presented the Shining World Hero Award on Master's behalf to Rex on July 20, they learned that he is a real gentle but brave soul, who had twice, in the past, protected the family property from intruders. The affection and love between Rex and his human companions was apparent. Everyone was so pleased that he had received this beautiful Award for his good deed. They eagerly helped him put on his new coats and try out his new bed. The crystal Award plaque was proudly displayed in the living room.
While sharing global warming information and the "Be Veg! Go Green!" message, the team was happy to discover that the family had already cut back on their meat consumption. May Rex and his human companions enjoy a very happy life together.